Keep Calm and Carry On Pt. 2 — Coronavirus Edition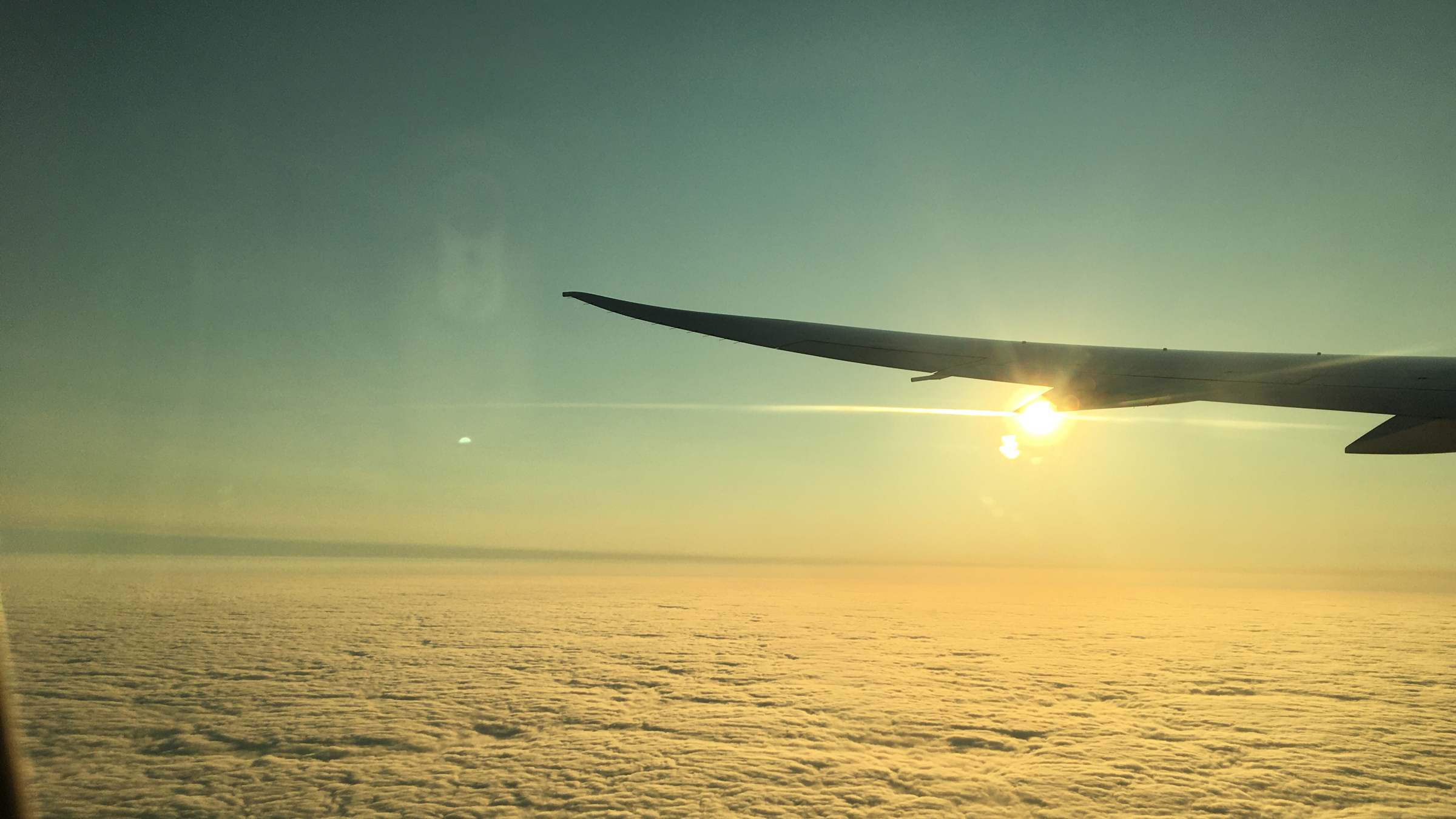 Once again, I did the 10 and a half hour flight to England, but this time during a pandemic… Let me just say that I don't recommend this if it can be avoided. We shouldn't really be traveling right now. And I know I'm being a hypocrite by saying that. But, I'm living here for 3 months, I'm doing my due diligence to self-quarantine for the first 2 weeks (just onto the second week now), and I'm going to do my best to stay generally local to where I am during this time. This isn't "travel as usual."
With that being said, a lot of people have asked me what it was like doing an international flight right now, so here's my experience. This is also an extension of my previous post about what I wish I'd had on my eleven-hour flight. I reread that post before leaving and brought what I could from the list to see if they would actually be useful in-flight.
Flying During a Pandemic
The first biggest difference about the whole flight experience here was just way more stress. In general, I know plane travel. I'm pretty used to it and I know the process pretty well. Sure it's still usually stressful (okay, I haven't always been the best with planes), but I know what I'm getting into.
In this case, I really wasn't sure how it would be. Would it be a normal, crowded flight without any social distancing? Would people really be wearing masks? Would they take my temperature? Were they doing any screening to avoid having people with Coronavirus on the flight? Would the UK even let me in on the other end??
In the SF Airport
In the San Francisco airport, the place was less crowded than normal and everyone was wearing masks (though some weren't covering the nose) but other than that, everything was pretty similar. I waited in a (mostly) socially distant line to check my bag then got into a very short security line. The airport had put down colorful circle stickers on the carpet saying "6-ft apart" or "stay safe", but they sometimes seemed to be in random spots or places that didn't really go along with the lines. Plus, the security agent placements made it impossible to stay six feet apart from them while in line.
A few things I had expected but didn't get was contactless checks and temperature checks. From what I'd read, everything was supposed to be as contactless as possible — phone boarding passes, just showing passport and passes instead of handing them over, etc. — but I still got a paper ticket and everyone still handled it and my passport like normal. I had also thought they might be doing temperature checks before going into the airport or at security, but no one took my temperature or asked any questions about symptoms.
How Crowded Was the Flight?
On the good side of things, the flight itself was fairly empty and well spread out so you could mostly keep a safe distance. Every person got their own row of three to four seats with aisles separating them and everyone had to wear a mask throughout the entire flight. From what I saw, people were actually following those rules too, which was comforting. Almost every row did generally have someone in it though, meaning social distancing front-to-back wasn't really happening as well as it was side-to-side.
Food
Another difference was the food. Everything was completely prepackaged so the flight attendants didn't touch any part of the actual food. The one downside of this: everything was cold. I'm not usually one to have an issue with airplane food — someone is literally serving you a tv meal while you watch movie 35,000 feet off the ground. But, I will say a slightly soggy veggie wrap and frozen salad weren't my favorite.
Border Control
Another difference was getting into the UK, but it wasn't as extensive as I had feared. My worst fear was I would get there and they'd send me back. 48 hours before getting in, I had to fill out a form about where I would be self-quarantining for the first 14 days and my plans for being in the UK, then I had to have that form available either on my phone or printed out for border control.
With the form in hand, the border wasn't much different than normal. They just looked at that, asked me a few standard questions about why I was there and if I knew I had to self-quarantine and I was through!
Heathrow Airport
It was a bit of a shock coming from San Francisco where everyone was wearing a mask and seemed to be taking things pretty seriously to Heathrow. In the line for border control, I tried to give the person in front of me plenty of space, but the people behind me were easily within arms distance. Moving out into the parking lots, only maybe half of the people I saw were wearing masks. They were standing close to each other, moving past each other, and getting in elevators together.
There was the occasional hand sanitizer station or sign to wear mask, but it didn't have that same kind of tension.
Bringing the Gear I Wish I'd Had
I wasn't able to get all the things I wish I'd had on the last flight, but I did bring some and also added a few pandemic-specific pieces too. The extra things I hadn't been able to get my hands on: travel pillow that actually works, laptop battery pack, and in-flight wifi. The extras I brought: reusable cup and straw, Ibuprofen, iPad, face masks, and face shield.
Cup and Straw
I had kind of hoped this would be more useful than it actually was. In practice, I think I was able to avoid one disposable cup. Not bad, but maybe not a huge difference. However, it was also a bit skewed since I think they were trying to increase prepackaged stuff with the pandemic.
The straw was helpful in that I could drink liquids without taking my mask off, but it wasn't the easiest of things. I used it with my water bottle which I think encouraged me to drink more.
Ibuprofen
Of course, when I bring the ibuprofen, I didn't actually need it. I even had alcohol!! Though not wine. I did try to avoid it, but how can you say no when the flight attendant offers to bring you a vodka soda? You can't. And it didn't give me a headache!
iPad
This wasn't on the wish list I'd had before, but it took the place of my laptop during the flight. It also has a way better battery life than my laptop so it basically took away the need for the laptop battery pack too. I didn't use it for writing, but it was nice for reading and drawing.
Face Masks and Shield
So the face masks were mandatory (and useful). The surgical ones are probably the most comfortable, N95 the most secure, and my homemade cloth ones most durable and easiest to sleep in.
The shield, I tried to wear, but for the most part, it either felt superfluous to wear on top of the mask while in my seat or walking around socially distanced or it was very challenging to eat in. Plus the glare on the plastic made it very hard to watch a movie through. But still definitely glad I had it just in case.
Happy arm chair travels and micro adventures!